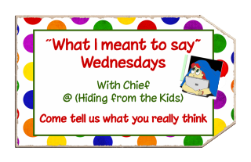 As of noon Tuesday I had nothing for this post. 1 full week of nobody pissin me off. Too good to be true? Yep, today some fool jumped out of the shallow end of the gene pool and decided to try and swim with me.
Costco 12:30 PM, I am strollin out happy as I can be with my sushi lunch and my hubbies $40 gold plated razors when some MeMaw comes tearing around the corner and almost takes me and all my sunshine and butterflies out with her $2 mini van ( I can rip on vans, I drive one so back off)
I shoot her a look, she gives me an Oops, I'm as old as Methuselah so I can drive like an asshole look.
As I am loading myself and goodies into the van the
biatch
honks at me to hurry up. Now she wants my spot really are you kidding me...how closely related to each other are your parents?
What I meant to say (do) was walk up to her window bang on it and tell her my father is the founding member of M16 and she better back off before I call my brothers who get out on parole next week to come open some woop ass on her inpatient can't drive sorry self. Then I would have done something really scary to her like make some crazy fake gang sign.
Really, she was lucky I had to haul my butt out of Costco anyway to go pick baby girl up from school otherwise I would have sat my happy self in my car for a few minutes hung out until she gave up and found a new spot.
OK people can we make it next week with out putting me out. My guess is no so I will be back again playin this same old song next week.
BIG NEWS! I am going to extend my giveaway and re post the details tomorrow (because I am too sleepy to do it now) so stay tuned!!