Hey Hey It's what I meant to say Wednesday! (do you love my fancy rhyme, no charge enjoy) Don't forget to visit Chief and show her some love....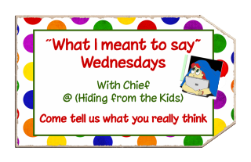 Last week a dear friend of mine who recently moved to the coldest place on earth where she had to have some guy come and melt the ice off her friggin house and has a snow crew on retainer (who's crazy here) came back for a visit....of course a girls night is in order
New sushi restaurant in town perfect~
We all sit order our wine and make note of the fish bowls with fish in them and floating candles (ooo the irony of live fish at your sushi table)
as the evening comes to an end one of the fish decides he has had enough and makes a break for it...jumps from the bowl and lands on the table
(Google Images)
Thankfully we were done eating.....as we sit stunned only 1 out of the 8 were able to keep our wits about us and rescue the poor little guy and it wasn't me (good thing nothing more serious happened, we were freaking useless in the face of an emergency)
We spent the rest of our time there watching waiting to see what would happen, was he going to die? Have a heart attack, live?
We gather up to leave when we are confronted by the manager. He wants to know how our meal was...really...our meal's first cousin just tried to kill himself on our table
The saver of the fish tell's him what happened and his response?
"Well, that's what fish do"
Ummmm no they don't jack ass
And really, is there anything more disgusting then finishing a meal of dead fish then to have one try and kill it's self in front of you as if to say
"Nooooo not Nemo.....my love I will join you in fishy heaven"
So no jerk, it's not what fish do, there is no meant to say here because it was said by 8 annoyed chicks who don't keep their mouths shut
And really who the hell puts live fish on the table where people eat dead fish?